Drone applications offer a lot of new opportunities in the digitising world
Even though recent evolutions increased the practical usability of drones, applications in greenery management are lagging behind. There is an increasing demand for tools and expertise related to the inventory of urban green using drone imagery. Both updating tree inventories and assessing the condition of trees are time consuming processes, often influenced by a certain level of subjectivity. An efficient and standardised method to collect information about the characteristics and quality of the urban tree community is a prerequisite for quick and targeted interventions.
Read more about this project here.
The application of today's photogrammetry technologies in the construction industry is gaining momentum. As a result, we see these technologies popping up in various processes: ranging from 360° photography and video recording to advanced scanning technology using infrared and LiDAR technology. We have divided the devices used for this purpose into two categories: scanning equipment using a tripod, and drones with an internal camera.
Read more about this project here.
The availability of drone imagery offers new possibilities for grapegrowers to implement targeted and spatially explicit management strategies, rather than uniform actions. Drone imagery can provide insights in the productive performance of the vineyard and can help to detect stress at an early stage.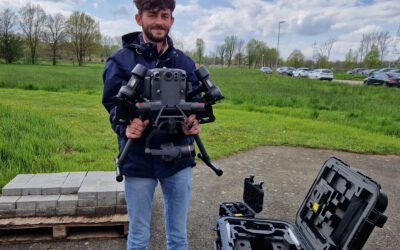 Today our newest acquisition arrived. This way, we keep up with the state-of-the-art infrastructure. We can not only...